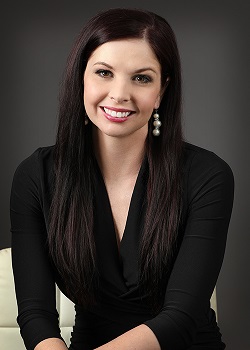 Areas of Practice:
Divorce – Child Custody – Child Support – Domestic Abuse – Harassment – Post-Decree Issues – Child Protection
Carolyn A. Cadem provides personalized, strategic, and effective legal representation to her clients. Carolyn primarily focuses her practice on family law, including divorce, custody, child support, domestic abuse, harassment, post-decree issues, and child protection. Carolyn prides herself on being easy to talk to, understanding, and tenacious.
To Carolyn, her clients are not just "cases." Carolyn's clients receive compassionate, individualized attention and dedication. Carolyn always fights to protect her clients' interests, while recognizing that often the most satisfying and sustainable resolution for them is often obtained outside the courtroom. Whether it is a complex divorce proceeding, or a modification of child support, when Carolyn takes on a case, her clients benefit from her legal knowledge, creativity, experience, personal investment, and her sense of humor.
Carolyn received her Bachelor of Arts degree, cum laude, in both political science and criminal justice from Iowa State University. While a student there, Carolyn served as Vice President for the University's Mock Trial Team.  In addition to her studies, Carolyn worked with the Polk County Sheriff's Office in Des Moines, Iowa.
Carolyn received her law degree from William Mitchell College of Law. Carolyn achieved early success as a Certified Student Attorney for William Mitchell's Child Protection Clinic, where she represented parents involved in child protection cases in Ramsey County Juvenile Court. She demonstrated successful collaboration with county attorneys, guardians ad litem, case workers, and children's attorneys to ensure outcomes in the children's best interests. Carolyn was recognized with an Advocacy Award for her work with the Child Protection Clinic.
Carolyn also served as a Judicial Extern to the Honorable Mary R. Vasaly in Hennepin County Family Court. Carolyn's dedication to family law began early in her law school career as the lead law clerk for a prominent Twin Cities family law firm.
In her practice and personal life, Carolyn strives to be not only a positive role model, but a contributing member to her community. Carolyn previously coached a USA Swimming team for children ages 4-18 and hopes to continue coaching in the future. Carolyn also volunteered with Tubman Alliance, which supports and offers services to families in crisis due to domestic violence.
In her spare time, she enjoys running, boating, fishing, and spending time with her husband and children.
"Carolyn listened - actually listened - and interacted with my fiancé as he described his concerns and what he was hoping to accomplish by hiring her. I'm not sure I can put into words the great amount of empathy Carolyn provides. We truly had to remind ourselves that she indeed does have other clients because it did feel as if we were always her only because of her level of support. She not only provided us with the legal support we needed, but also emotional support that things would turn out for the best and reassuring my fiancé that what he was asking for was okay and the best thing for his boys (a relationship with him, their dad). And when we did go astray with our thoughts or feelings, she would gently push us back on course. She was calm and careful with her words in court, and assertive at the appropriate times."
"Before Carolyn, I called all around and got free phone consultations which lead to them conveniently not knowing anything until I gave them money. Every lawyer I talked to made me feel like I was another routine crappy dad trying to get out of child support with minimal effort... When I first entered Carolyn's office, I was terrified. I had never been in a lawyer's office before, I automatically assumed that since nearly every other separated dad I know out there has abandoned their family that this place would judge me as the same and drag me through mud before letting "the system" teach me a lesson about parenting. I shook her hand and it's as if she sent a wave of reassurance in that handshake as to say "It's going to be alright, I'm here now" I told her of all my worries, fears, unknowns and it was like she snapped right to it as possibly the most empathetic lawyer I've ever encountered."
"Carolyn has been there through the many ups and downs with my divorce. She answered my many concerns, even on evenings and weekends when crises came up. She was highly flexible and kept providing the legal advice I needed to make decisions in a very tough case involving verbal and emotional abuse, and other life-threatening circumstances. She made sure I knew what I needed to get this roller coaster ride of a divorce done after a year of failed mediation with another lawyer, when my ex -husband kept trying to sabotage the sale of the house numerous times. She gave me the power of persuasion so that the divorce finally went through without having to even finish up in court, and promptly finished up the work so that the divorce happened very quickly. Her personal touch and willingness to play hardball gave me the courage to finish things up."

Email:
Carolyn@CademLaw.com
U.S. District Court, District of Minnesota