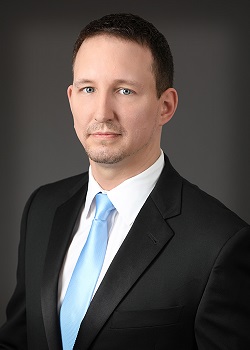 Areas of Practice:
Criminal Defense – Personal Injury – Civil Litigation
For almost two decades, Chris Cadem has concentrated his practice on litigation matters in both criminal and civil cases in State and Federal Court. His experience includes more than 100 trials and roughly a dozen appeals, including multiple petitions to the Minnesota Supreme Court. He has successfully litigated cases spanning from simple speeding tickets to first degree murder and first degree criminal sexual conduct. His civil docket includes everything from contract disputes to complex multiparty, million-dollar financial matters. Chris's clients include an Academy Award nominated actor, family members of court staff, a judge, and thousands of other Minnesotans.
Chris has been widely recognized by his peers for his experience and professionalism. In 2023 he was named "Attorney of the Year" by Minnesota Lawyer Magazine. He also been named an "Up & Coming Attorney" by Minnesota Lawyer magazine, "Rising Star" by Minnesota Super Lawyers magazine, repeatedly named a "North Star Lawyer" by the Minnesota State Bar Association, repeatedly named in the "Top 100" criminal defense attorneys by the National Trial Lawyer Association, and has received Avvo.com's highest distinction as a "Superb Attorney."
Prior to forming Cadem Law Group, Chris practiced at a small Minnesota based law firm where he founded the firm's first civil litigation practice. Before that, he worked as the vice president and as legal counsel for an insurance agency located in St. Paul, Minnesota, and an intern lobbyist in Washington D.C. for a large Minnesota law firm.
Chris received his Bachelor of Arts degree in both political science and psychology from the University of Minnesota Morris with Highest Distinction, where he was honored with the prestigious Scholar of the College Award and the Gieske Academic Award. He was also a Phi Kappa Phi honorary and presented independent research on the impact of social identity on voting behavior at the University of Minnesota Research Symposium and at the National Conference on Undergraduate Research in Louisville, Kentucky.
Chris received his law degree, cum laude, from the University of Minnesota Law School. While a student there, Chris was in the Maynard Pirsig Appellate Advocacy Moot Court, where he was awarded honors and was nominated for the law school's best appellate brief. He was also selected as a student director of the University of Minnesota Housing Law Clinic and to take part in the Kommerstad Center's Business Law Clinic where he represented entrepreneurs forming new businesses and longtime business seeking business restructuring. During his final year in school, Chris externed with the Honorable Richard H. Kyle of the United States District Court, District of Minnesota.
In his practice and personal life, Chris works diligently to have a positive influence in his community and on the lives of the people around him. Chris gives back to his community through multiple volunteer organizations. He served for many years as general corporate counsel for the Minnesota Jaycees, was a member of the Fergus Falls Jaycees where he served as chairman of the board, president, vice president of membership, and treasurer. He was the two-time past president of the Fergus Falls Lions, was the secretary and treasurer of the Otter Tail County Bar Association, and was an ambassador for the Fergus Falls Chamber of Commerce. Since 2006, he has served repeatedly as a Civil Rights Moot Court judge for the University of Minnesota Law School, and also volunteers as a mock trial judge for the Minnesota State Bar Association's annual High School Mock Trial Tournament.
In his spare time, Chris enjoys spending time with his wife and kids, home renovation and improvement, biking, fishing, bodybuilding, time on the lakes, and woodworking.
"I will believe in sending people to prison when I believe our criminal justice system is perfect and an innocent man will never be imprisoned. Until that time, I will fight tirelessly to prevent any of my clients from going there." –C. Cadem
"How can I defend the guilty? Simple: I don't. I defend people charged with crimes. Guilt is a question for a jury, not a defense attorney. The question I must answer is: 'how do I prevent the jury from reaching the conclusion of guilt.'" – C. Cadem
"The scariest clients I have are the innocent ones. I have one focus: to free my client from the clutches of the government and its unlawful prosecution. For the innocent man, there should be no compromise, there should be no plea." – C. Cadem
"Is your client actually innocent? A common question, but an irrelevant one. My job is to defend. My job is to win. It is the prosecutor who is tasked with wrestling with such a silly question." – C. Cadem
Otter Tail County Bar Association; Secretary/Treasurer (2008-2013)
Wings Family Supportive Services – Board of Directors (2013-2014)
Fergus Falls Lions, President (2010-2012)
Fergus Falls Jaycees; Secretary/Treasurer (2006 – 2007); President (2008)
Jaycees Corporate Counsel (2013-2016)
Jan. 29, 2016 – "The New Lawyer Experience" – Minnesota CLE.
Nov. 7, 2013 – "The Law, the Facts, and the Reality of Drinking and Driving in Minnesota" – Fergus Falls Community Education Center.
June 6, 2013 – "The Law, the Facts, and the Reality of Drinking and Driving in Minnesota" – Fergus Falls Community Education Center.
May 22, 2013 – "Meet the Attorney" Fergus Falls High School Career Day.
Jan. 12, 2012 – "DWIs in Minnesota: What Every Motorist Should Know" Fergus Falls Lions Club.
Feb. 15, 2012 – "Minnesota's New DWI Laws: Tricks, Traps and Pitfalls Every Driver Should Know" Fergus Falls Jaycees International.

Email:
Chris.Cadem@CademLaw.com
U.S. District Court, District of Minnesota
American Association for Justice
MN Association for Justice
Midwest Defense Lawyers Guild
MN Assoc. of Criminal Defense Lawyers
MN State Bar Association
Otter Tail County Bar Association
"Top 100 Trial Lawyers" – National Trial Lawyers Assoc. (2014, 2015, 2016, & 2017)
"North Star Attorney" – Minnesota State Bar Assoc. (2015 & 2016)
"Up & Coming Attorney" – Minnesota Lawyer Magazine (2017)
"Rising Star" – Super Lawyers Magazine (2018)
Featured Attorney – Lawyers of Distinction (2018)